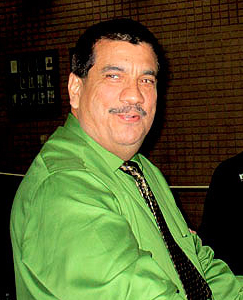 Pete Benavidez lost most of his vision to Retinitis Pigmentosa (RP) at the age of 23. But while losing his vision was a huge personal blow, it set him upon a path that has allowed him to touch the lives of thousands of visually impaired people throughout Inland Southern California.
Benavidez, who has led Blindness Support Services (BSS) since 1994, will be lecturing UCR School of Medicine students as part of the Careers in Medicine Program Special Lecture Series. The series brings guest speakers to discuss important topics for professional development, medicine, and community.
One area Benavidez will address is how medical students and physicians can become more culturally competent and learn the skills they need to interface with the blind and visually impaired community.
Benavidez graduated from UC Riverside in 1982 with a degree in sociology, becoming the first member of his family to earn a college degree. He lost his vision shortly thereafter, but it didn't stop him from working with the Riverside County Department of Mental Health.
However, in 1992, he was let go by the county and began volunteering with a newly-founded, Riverside-based non-profit organization called Blindness Support Services. After about a year of work, the founders became overwhelmed and announced they would be shutting down. Benavidez realized that if he didn't step up, BSS would cease to exist.
In 1994, Benavidez was elected president of the BSS board, fortified only with a total budget of $5,000 and the desire to help others who were faced with blindness or visual impairments. BSS became the only agency offering direct services to blind and visually impaired people in the Inland Empire.
There are about 600,000 people in California who are blind or visually impaired, with 96% having lost their vision due to eye disease. RP, which took Benavidez's vision, still has no cure. Experts predict that by 2030, rates of severe vision loss will double along as the country's population ages.
Benavidez quickly had to learn the best practices and methods of running a non-profit agency and how to help the blind and visually impaired reclaim their independence. He made contact with agencies across the region, learning what did and did not work.
Now, more than 20 years later, he is CEO and president, overseeing a staff of 19 people, a budget of just under $1.5 million dollars. Benavidez is a highly-sought expert on issues facing the blind and visually impaired, serving on a variety of committees, both locally and across the state.
Over the years, Benavidez has developed cost-effective, efficient methods of helping people with vision loss, focusing on evaluating and serving the other person, not just treating the disability. He has integrated technology into his programs, worked to find affordable housing and develop independent living skills facilities to train the blind and visually impaired to cook, clean and effectively run independent households.