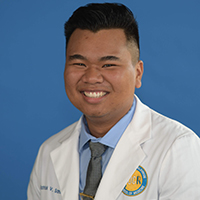 Patrick Samones, a member of the class of 2023, is the author of a chapter introduction for the AAMC's Official Guide to Medical School Admissions: How to Prepare for and Apply to Medical School, which will be released on October 15, 2021.
The book, which is released annually, is a comprehensive guide that is considered to be the authoritative source for information on medical school admissions. It includes a wealth of information and expert tips on the admissions and application process.
Samones, who grew up in Moreno Valley and earned his bachelor's degree in biology from UCR, participated in several Pipeline Programs during his undergraduate career, including Medical Leaders of Tomorrow and Mini Medical School (MMS). He was also a peer mentor in the Health Professions Advising Center and volunteered at the Riverside Free Clinic and San Bernardino Free Clinic. These days he is the lead medical student advisor for the MMS providing guidance and feedback to premedical students developing projects on topics such as nutrition, homeless health, and lung health.
"He always supports and encourages premedical students, and the Pipeline Programs is fortunate to have him as a dedicated and inspiring volunteer," said Teresa Cofield, director of Pipeline Programs at UCR. "I believe that premedical students across the country will be inspired by Patrick's insights on preparing to become a doctor."
Although Samones had written a pair of essays for the AAMC's Aspiring Docs Diaries website, he said that the invitation to write the chapter was a surprise.
"The invitation came out of the blue shortly after my second story submission," he said. "I was honored to be considered for the opportunity."
In the introduction, titled "So... You Want to Be a Doctor," Samones writes about his decision making experience that led to choosing a career in medicine and, more specifically, applying to the UCR School of Medicine.
"Because I understood the characteristics and needs of my community, I felt compelled to pursue becoming a physician as part of the solution for my region's primary care shortage, poor health literacy, and need for cultural competency," he wrote. "By the end of it all, I had countless stories and reflections that helped me solidify my decision to be a physician and to serve my community that raised me."
Samones said that he never considered himself to be much of a writer, but that the SOM curriculum, including public health thread courses taught by Dr. Brandon Brown, has helped him improve.
"The writing assignments where we compose and reflect on the lessons we learn in medical school have helped me to find stories that I want to share as a burgeoning physician. All the lessons I write about are based on the turbulence of medicine that isn't explicitly in our curriculum but is a critical part of our journey as medical students," he said.
"Patrick's honesty and vulnerability in his storytelling will help other aspiring docs on their journey to become physicians who provide compassionate and culturally competent care and remain steadfast on why they wanted to become doctors in the first place," Brown said. "He has already a proven healthcare leader in this regard, recognizing the role of the social determinants of health, and he helps the UCR SOM meet its mission to become a model to be emulated throughout the nation."