Thomas & Salma Haider Biomedical Breakthrough Lecture
About the Annual Haider Lecture
The Thomas & Salma Haider Biomedical Breakthrough Lecture brings the best and brightest researchers in the biomedical field to Riverside to present their research. The 2023 lecture features David Baker, PhD, director of the Institute for Protein Design and the Henrietta and Aubrey Davis Endowed Professor in Biochemistry at the University of Washington. The title of the lecture is "Protein design using artificial intelligence."
This annual lecture series is supported through the generosity of an endowed gift from Dr. Thomas and Salma Haider, longtime supporters of medical education and research at the University of California, Riverside.
---
Meet David Baker, PhD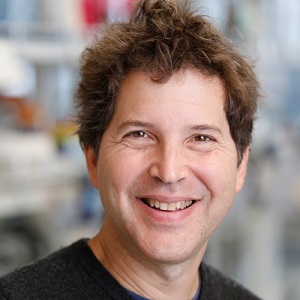 David Baker, PhD is the director of the Institute for Protein Design, a Howard Hughes Medical Institute Investigator, the Henrietta and Aubrey Davis Endowed Professor in Biochemistry, and an adjunct professor of genome sciences, bioengineering, chemical engineering, computer science, and physics at the University of Washington. His research group is focused on the design of macromolecular structures and functions.
He received his Ph.D. in biochemistry with Randy Schekman at the University of California, Berkeley, and did postdoctoral work in biophysics with David Agard at UCSF. 
Baker has published over 550 research papers, been granted over 100 patents, and co-founded 17 companies. Over 70 of his mentees have gone on to independent faculty positions. He is a member of the National Academy of Sciences and the American Academy of Arts and Sciences. He is also a project leader with The Audacious Project.
Baker has received awards from the National Science Foundation, the Beckman Foundation, and the Packard Foundation. He is the recipient of the Breakthrough Prize in Life Sciences, The Wiley Prize in Biomedical Sciences, Irving Sigal and Hans Neurath awards from the Protein Society, the Overton Prize from the ISCB, the Feynman Prize from the Foresight Institute, the AAAS Newcomb Cleveland Prize, the Sackler Prize in Biophysics, and the Centenary Award from the Biochemical Society.
---
About Dr. Thomas and Salma Haider
Dr. Thomas T. Haider is a world-renowned spine surgeon, philanthropist, entrepreneur and inventor. He and his wife, Salma, have been stalwart supporters of improving medical education in Inland Southern California and were key contributors in the founding of the UCR School of Medicine.
The Haider's generous support the SOM includes the Thomas Haider Program at UC Riverside School of Medicine, which provides an avenue for qualified and culturally diverse, underprivileged students to enroll in UCR School of Medicine each year, The Salma Haider Endowed Chair for the Thomas Haider Program, and this annual lecture series.
Dr. Haider is a recipient of the UC Riverside Chancellor's Medal, the American Medical Association's Pride in the Profession Award and was awarded the Outstanding Medical Profession of the Year Award by United States Congress. The Haiders created and run the Children's Spine Foundation, through which they provide free medical care to children at their clinic, the Haider Spine Center, as well as in hospitals abroad.
Download "Supporting the Future of Medicine," a commemorative book about the Haider's Relationship with UC Riverside
---
Past Presenters
2022: Event Cancelled

 
2021: Stanley Qi, Ph.D.
Assistant professor, Department of Bioengineering, Department of Chemical and Systems Biology, and the Stanford ChEM-H Institute
Watch his presentation, "Synthetic genome engineering for genomics and therapeutics" on YouTube
2020: Paul Offit, M.D.
Maurice R. Hilleman Professor of Vaccinology and Professor of Pediatrics at the Perelman School of Medicine at the University of Pennsylvania
Watch his presentation, "Developing a COVID-19 Vaccine at Warp Speed" on YouTube
2019:  David Hafler, M.D.
William S. and Lois Stiles Edgerly Professor and Chairman of the Department of Neurology and Professor of Immunobiology at the Yale School of Medicine
Watch his presentation, "Immune Cell Adaptation in the Brain: Your Brain is on Fire" on YouTube
2018:  Susan L. Akerman, Ph.D.
Professor of Cellular and Molecular Medicine, and the Stephen W. Kuffler Chair in Biology, at the University of California, San Diego
Watch her presentation, "Maintaining the Balance: Neurodegeneration and Susceptibility Genes in the Aging Brain," on YouTube